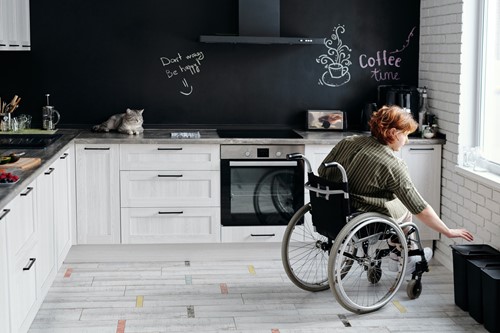 Photo by Marcus Aurelius from Pexels

Contractors and land developers may want to consider the growing demographics of people with some form of physical limitation when they design kitchens. According to recent reports, upwards of 15% of households have at least one family member with a physical limitation. Yet only 6% of available homes are considered accessible.
Over 16% of Americans are over 65 years old, and that figure is expected to increase to 22% by 2050. The normal result of aging eventually causes loss of muscular strength, mobility and the use of wheelchairs and walkers by our valued elders. The market for accessible homes will only continue to grow in the coming years. But integrating accessible kitchen elements in new construction blueprints, real estate values are likely to increase. These are cost-effective designs that increase kitchen accessibility while making the space aesthetically pleasing and efficient.
What Makes a Kitchen Accessible?
The Americans with Disabilities Act (ADA) sets guidelines that support improved use by people with mobility, flexibility and other limitations. The underlying reasoning behind many of the standards is to position kitchen items within arm's reach and remove common impediments. These are aspects of an accessible kitchen that would be consistent with ADA regulations:
An obstruction that would impede mobility devices such as wheelchairs and walkers must be eliminated to reduce the risk of hard-impact falls and access prevention.  
Doors and entranceways must meet ADA width minimums to accommodate wheelchairs and walkers.
Appliances are required to have open surrounding space for free access.
Countertops must meet height regulations to support reasonable access for people using mobility devices.
Countertops and other spaces should be free from obstructions underneath them.
The ADA requirements have subtle details that include height, width and pathway layouts. But what homeowners with and without physical limitations like about accessible kitchens are their efficiency and enhanced spaciousness. Many discover that ADA-compliant kitchens look bigger than their actual square footage.
How to Create Accessible Kitchens
Regardless of whether your involvement in a new construction project comes from the point of view of an architect, contractor or potential homeowner, there's a simple way to understand accessibility. Start by thinking through those seemingly minor inconveniences in traditional kitchens and resolve them. These are ways kitchens can enjoy improved accessibility.
Accessible Countertops: These surfaces are traditionally installed at a height of approximately 36 inches. What's interesting is that everyday people who fall outside the average height index often find them awkward. Wheelchair accessible countertops are installed at 28-34 inches. They are wall-mounted rather than sitting on cabinets that eliminate foot space. These differences typically make them accessible and more comfortable for people who do not use wheelchairs.
Accessible Cabinets: Products that are mounted above countertops are often out of reach for people who use wheelchairs and difficult for others with flexibility issues. Accessible cabinets are generally mounted lower and to the sides of countertops and appliances. This placement is a welcome one for most people. It's also essential to use hardware that is easy for users to grip.  
Accessible Sinks: ADA-compliant sinks are set at heights of about 29 inches and are at least 11 inches deep and 30 inches wide. These specifications make them ideal in terms of ergonomic use for a wide range of people.
Accessible Appliances: Items such as ovens and stovetops should be positioned with wheelchair accessibility in mind. Heights in the 30-inch range usually meet ADA guidelines. What people without limitations find is that they suffer less back strain.
It's also important to consider that a fully accessible kitchen leverages a floor plan that allows a person using a wheelchair or walker ease of movement and the ability to turnaround and exit freely. In terms of new home construction, home chefs with or without physical limitations often find the ergonomic benefits and spaciousness appealing.